Back
Speaker profile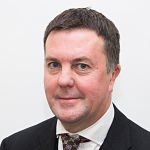 David Dillon
Senior Regulatory and Compliance Analyst, Enhesa Product
David joined Chemical Watch in May 2020 and his main objective is to assist companies in transforming their compliance function to drive business value by exercising industry leadership on product safety and sustainability issues. 
He is responsible for overseeing and developing analytical content, tools and training courses to assist the industry in navigating through complex compliance frameworks. He will also head up internal and external Enhesa Product members' working groups on these issues as well as other European regulatory issues at the EU and EU state member level. 
Prior to Chemical Watch he spent five years as a consultant at Exponent, 19 years working for the UK Health and Safety Executive (HSE), as well as nearly seven years in industry. He has extensive experience in global legislative processes, and a wide range experience of EU biocide committees, working groups and technical workshops. He also has several years' experience supporting EU and National Trade Association activities.