Back
Trainer profile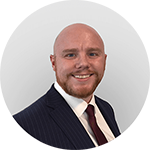 Jay Ingram
Director, EMEA, Delphic HSE
Jay has over 10 years experience working in the area of toxicological risk assessment of consumer products, specialising in personal care products, exposure modelling, and regulatory toxicology.
In 2009 Jay was awarded a Masters degree in Toxicology from the University of Surrey. Upon completion of his Masters degree, Jay joined the Unilever Safety and Environmental Assurance Centre, specialising in the safety support of REACh activities. Jay quickly moved on to conducting risk assessments on personal care products and the development of human exposure models, as well as leading the delivery of Consumer, Occupational, Environmental, and Sustainability safety assessments for early stage personal care projects and lecturing on the University of Surrey MSc Toxicology course. In 2016, Jay joined the RB Consumer Safety team as a Consumer Safety Manager, leading the toxicological safety and regulatory delivery for cosmetics and medical devices. Jay joined Delphic HSE in March 2019 as Principal Toxicologist.
Jay will be responsible for the resource and performance of the EMEA team against the company and department objectives.