Back
Trainer profile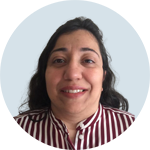 Yasmin Ahmed
Senior Regulatory Affairs Advisor, Delphic HSE
Yasmin is a Professional Chartered Chemist and have 15 years' experience in the Cosmetics Industry in both Retail and supply to Retail. Most recently, she worked for Sally Beauty as Regulatory & Technical Manager at Sally Beauty, who are an international distributor and retailer of cosmetic brands as well as well private label cosmetics, selling to the professional and retail hair and beauty market. 
Coupled with a chemistry background and considerable experience has been beneficial with working with cosmetic formulations, chemical compliance and quality assurance of the products ensuring product safety before launch. Prior to working at Sally, Yasmin was a Cosmetic Product Safety Assessor at SGS and provided training and consultancy services to clients. She has also worked as Technical Manager at Creightons PLC, now part of Potter & Moore which one of the largest UK cosmetics contract manufacturers.
Yasmin has experience of working in cosmetic development, manufacture, retail and as well as consultancy services has provided me with a broad and extensive knowledge of the Cosmetics Regulation (EC) 1223/2009, CLP Regulation (EC) 1272/2008 and Reach Regulation (EC) 1907/2006. In addition to this she has knowledge of the electrical safety regulation, furniture safety regulation, biocides and medical devices.