What does the future look like for UK chemicals law?
A number of significant developments are expected in 2022 within UK REACH. This new conference from Chemical Watch will offer an opportunity to hear industry experts, NGOs and regulators discuss the latest changes and challenges in this fast-moving area. Delegates can attend either in-person in London or virtually from anywhere in the world.   
Our speakers will share their insights on UK REACH, divergence and other UK regulatory updates. They will also explore developments affecting GB biocides and GB cosmetics regulation.  
Join this one-day conference for a series of expert presentations, discussion panels and Q&A sessions. If you are unable to clear your diary for the whole event, or wish to watch the presentations again, or join virtually, all the content will be available on demand online shortly after the event.  
Key themes at the conference are: 
UK REACH and its chemicals strategy;
divergence from EU regulations;
data sharing and submission; and
other UK regulatory updates, including regulations on biocides and cosmetics.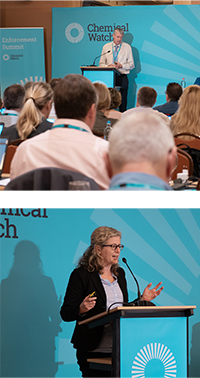 Why attend this event? 
The conference will allow you to: 
put your UK chemicals policy and regulation questions directly to the experts; 
find out the latest regulatory updates; 
get practical insights on how to plan for future developments; 
connect and discuss issues with other delegates; and 
join the conference live, in person or virtually, or catch up later with the on-demand content.  
Venue and Location
For our last in-person event of the year, we'll be holding the conference in London at the Hilton London Bankside hotel. Situated in the heart of London's popular Bankside area, Shakespeare's Globe, the Millennium Bridge, and the Tate Modern art gallery are only a 5-minute walk away. Why not join us for the conference and then enjoy everything the capital has to offer?
Have you seen the highlights and testimonials from our last conference, UK Chemicals Regulations (April 2022)?
Earlier this year, we held the UK Chemicals Regulations conference in London as one of our first in-person events of the year. Check out our highlights page below to see photo, testimonials and articles from the event!
 
"Extremely useful. I'd been out of the loop for a while and found the content to be balanced and informative. Chemical Watch never fail to impress!" 
"Very well organised. Very well delivered. I hope this event feeds back to all authorities the many complex issues that industry is facing. Very experienced speakers. A real selection of UK talent." 
"Great to get updates from industry, law firms and government all in one place, and have a day to focus solely on it." 
"Very useful as a spotlight on the current issues industry is facing." 
"It was very useful and well organised, both for participants attending in person as well as online." 
"Very useful insight into issues faced by the chemicals industry, with different perspectives provided on UK REACH and other regulations." 
"Very useful - I needed more of an understanding on REACH and ROHS and I got that." 
"Very useful - excellent sessions on data, industry views and UK REACH particularly." 
"Very useful; it depicted the current scenario surrounding the UK chemical framework very well!"  

Who should attend? 
Regulatory affairs managers 
Compliance managers 
Government regulators 
Product stewards 
Lawyers 
Consultants 
Trade associations 
Service providers 
NGOs 
Academics 
Sponsor/exhibit at this event
By choosing to sponsor this event, you can promote your products and services to our highly targeted audience of regulatory and product safety professionals. Your presence at our events will be featured in a dedicated campaign by our in-house marketing team, and you'll have the chance to promote your own relevant content before, during and after the event.  FIND OUT MORE