Back
Speaker profile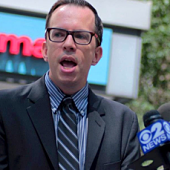 Mike Schade
Mind the Store Campaign Director, Safer Chemicals Healthy Families
Mike Schade coordinates a national U.S. campaign challenging the nation's leading retailers to transform the marketplace away from hazardous chemicals and towards safer alternatives. For the previous nine years, Mike was the Markets Campaign Coordinator with the Center for Health, Environment & Justice (CHEJ), a national environmental health organization where he led national campaigns to phase out PVC plastic, phthalates, bisphenol A (BPA) and dioxin in consumer products and packaging.
Prior to CHEJ, he was the Director of the Buffalo office of Citizens' Environmental Coalition (CEC), a NY statewide grassroots environmental health organization.  Mike is the author or co-author of numerous reports including "Who's Minding the Store? – A Report Card on Retailer Actions to Eliminate Toxic Chemicals", "Buyer Beware – Toxic BPA and Regrettable Substitutes Found in the Linings of Canned Food", "Hidden Hazards: Toxic Chemicals Inside Children's Vinyl Back-to-School Supplies", "Baby's Toxic Bottle: Bisphenol A Leaching from Popular Baby Bottles", and others. 
Mike lives in Brooklyn, NY where he serves on the Newtown Creek Superfund Community Advisory Group (CAG), the Board of Directors of Neighbors Allied for Good Growth (NAG), and the Community Advisory Panel of the Greenpoint Community Environmental Fund (GCEF).  He received a BS in Environmental Studies and minor in Physical Geography from the State University of New York (SUNY) at Buffalo.