Back
Speaker profile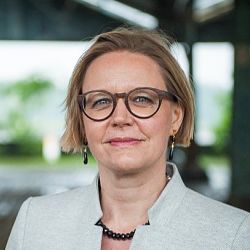 Elke Van Asbroeck
Managing Director, Apeiron-Team NV, The Netherlands
Elke, as a result of 12 years in industry as a production engineer, technical support manager, and chemicals product steward. She has direct experience of industrial processes and the business impacts of chemical regulations compliance. In 2009, Elke left industry to create the company Apeiron-Team, a consultancy specialising in REACH and chemicals stewardship.
Apeiron-Team's mission is to support improvements to human health and the environment. This is achieved by advising both regulatory and industry stakeholders on risk management and reduction approaches, either through exposure reduction or by actively searching for technically and economically feasible alternatives.
The Apeiron-Team members pride themselves on bringing all parties together on the path towards improvement solutions. The authorisation dossiers submitted under the REACH regulation by Elke and her team have been positively recognised by authorities, industry and NGOs.
Elke's in-depth expertise in the waste and recycling industry has resulted in Apeiron-Team taking an active role supporting clients in circular economy projects and more specifically, on how to overcome regulatory and technical hurdles associated with the management of substances across the end-of-life stages in the supply chain.