Back
Speaker profile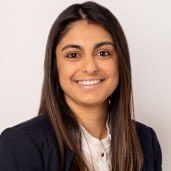 Suhani Chitalia, Esq.
Manager, Environmental Regulatory Affairs, IPC
Suhani currently serves as IPC's Environmental Regulatory Affairs Manager. In her role, Suhani supports members and the association on advocacy topics related to environment, health, and safety. She works within the larger Government Relations team and works closely with industry members and partners to develop policy initiatives, goals, and execute on priority items. Suhani started with IPC in August 2022 and is a licensed attorney in the State of Maryland. In her prior roles, she has worked with non-profit organizations, lobbying firms, and the government. She comes to IPC with a robust background in environmental law and social justice policy.